Kawaii Cupcake Match-3 Asset Pack
A downloadable asset pack

An asset pack for a match-3 game in the very cute kawaii style with 12 facial expressions: smiling, laughing, blinking smile, blinking laugh, angry, bored, annoyed, amazed, shocked, yelling, winking and ill/dead/hurt/something-like-that.
The following arrangements can be used to express emotion:
If the player attempts to make a wrong matching, both cupcakes can have the annoyed expression.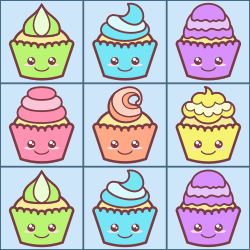 When a matching is successful, the shocked face.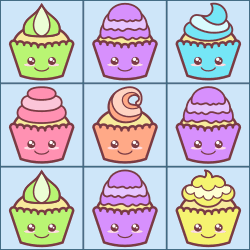 If some sort of combo is made or a special cupcake is used, they could show the amazed face.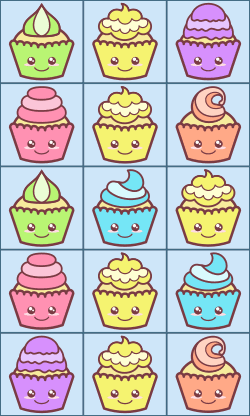 If the player takes too long to make a move, all cupcakes on the board could have the bored expression.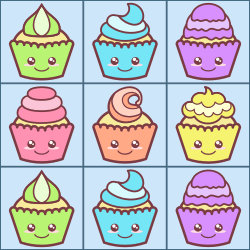 The only limit is your imagination.

6 types of frosting with 6 colors creates 36 'unique' cupcakes. Plus their horizontal and vertical striped versions. Also a chocolate cupcake with 2 liners and a red velvet cupcake with 2 liners too.
A "vanishing" animation in 17 colors (12 light and dark from the main cups; 4 light and dark for chocolate and red velvet; and 1 white) in 2 rotations.
A HUD with 2 parts: Top part mimics a frosting and it has 2 variants; Bottom part mimics a liner and it has 2 variants.
The HUD components are available in 6 colors: blue, pink, purple, orange, yellow and green.
A level map with 2 variants that wraps on the vertical axis. This way you can have unlimited levels.
34 UI buttons plus 2 empty buttons (in normal and 'pressed' color style).
A cupcake-shaped window and a square window.
A few UI components like a golden coin, golden bar, diamond, heart and stars (with empty and filled versions). Only the bar, coin and diamond have shining animations.



5 fruits for dropping (like the coconut and cherry from Candy Crush) that have kawaii faces too. The fruits are: cherry, strawberry, blueberry, raspberry and grape (purple and red).

A few board elements like a gift box (transparent), a pan lid (transparent), block of ice/glass (transparent), wafer (opaque), chocolate (opaque) and jelly (opaque).

6 boosters: pastry bag, spatula, whisk, rolling pin, tongs and pastry cutter. They have a version without the border so you can use movement to animate them on the board.

1 "ingame" background in 6 colors that wraps in both vertical and horizontal axis.
Everything is delivered in both PNG files and SVG files, so you can resize them without losing quality.

You can use this asset in basically anything you could possibly want. (Games, websites, softwares, mobile apps, etc)
You can sell or monetize the work you create using this asset.
You can edit this asset to your liking.
You CANNOT claim this asset or any editing as your own.
You CANNOT share or redistribute this asset per se.
You CANNOT use this asset if you haven't bought a copy.
Note: You can find the full license text in the asset folder.

TEXT FONT NOT INCLUDED! But the one I used in the screenshots was "Alfa Slab One" and you can download it for free here.
I advise you to use particles to create the horizontal, vertical and diagonal line effects. This pack DOES NOT contain those effects.
Sound effects NOT included!
The whole design was created with mobile in mind (vertical screen).
Any questions, just leave a comment. (:
REMEMBER TO ADD THIS PACK TO YOUR COLLECTION TO STAY TUNED ABOUT DISCOUNTS AND UPDATES!

As of 2019-05-15, I've added the proper boosters spritesheet, including the pastry bag animation. As you can see below, there's a suggestion of use, but you're free to use in any way you want to, obviously. (:
(Forgive my hideous finger. :'D)
Here are the other boosters animations. Note that I didn't do a GIF of the whisk because you can simply move it around the board to mimic a shuffling effect.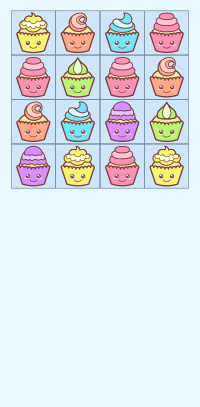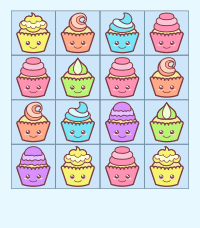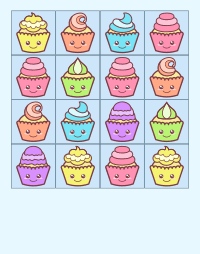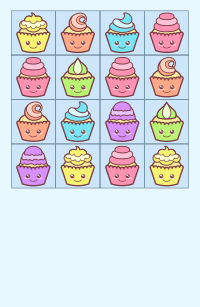 I've also added the winking face to all cupcakes and to the fruits as well.

Regarding the board elements, I've added a gift box (opaque) with unfolding animation; a glass/ice (transparent) with breaking animation; vanishing animations to the existing jelly, wafer and chocolate.
Finally, I've added the number count white bubble to the boosters icons. (:
_______________________________________________________
Note: The SVG file can be opened using Inkscape. Why spend money with a suite subscription to just recolor or resize a file? Inkscape is free! Rejoice!

~~~~~~~~~~~~~ ♥ ABOUT ME ♥ ~~~~~~~~~~~~~
Purchase
In order to download this asset pack you must purchase it at or above the minimum price of $15.90 USD. You will get access to the following files:
KawaiiCupcakeAssetPack.zip
76 MB